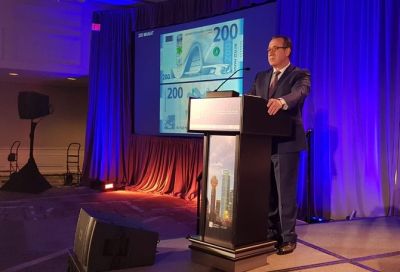 17:04 - 31 May 2018
---
May 31, Fineko/abc.az. The Central Bank of Azerbaijan (CBA) held presentation of the 200-manat banknote at an international conference in Dallas.
The CBA reports that the presentation was held on 23 May, simultaneously with the presentation held in Baku.
"At the conference, which was attended by reps of 70 central banks and 150 international organizations, the new series of banknotes of Australia, Israel, Mexico, Russia, Kyrgyzstan and Madagascar were also presented," the CBA informed.
The Azerbaijani manat was rated one of the best in design and security among the 30 banknotes presented and was approved for presentation in nomination "Banknote with the best design and security system" during the Cash Conference to be held in Dubai next year.