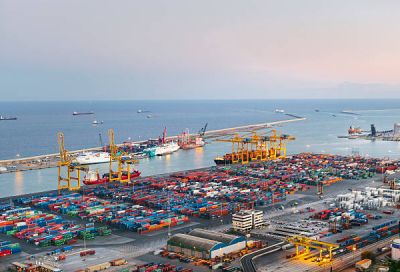 15:36 - 2 February 2023
---
February 2, Fineko/abc.az. The fertilizer terminal at the Baku International Trade Sea Port will be put into operation after the 2nd quarter of this year.
ABC.AZ reports that Khudayar Hasanli, the head of the Baku Port Strategic Planning & Development Department, informed about this.
"Construction within the fertilizer terminal will be finished in the 1st quarter of the year, after which testing work will be carried out. Cargo acceptance will begin in full after the 2nd quarter of the year," Hasanli emphasized.
He added that the annual capacity of the terminal will be 2.5 million tons. With the construction of this terminal in the short- and medium-term prospect, it is expected to attract more than 2 million tons of cargo.
"Transshipment of about 1 million tons of fertilizers a year is carried out, but as soon as the new terminal is put into operation, we'll have the opportunity to transship more fertilizers. If at present we simply accept Turkmen fertilizers in open form, then after the launch of the terminal we are also thinking about attracting products from other Central Asian countries, for example, Kazakh fertilizers. We are also working in this direction," Hasanli underlined.