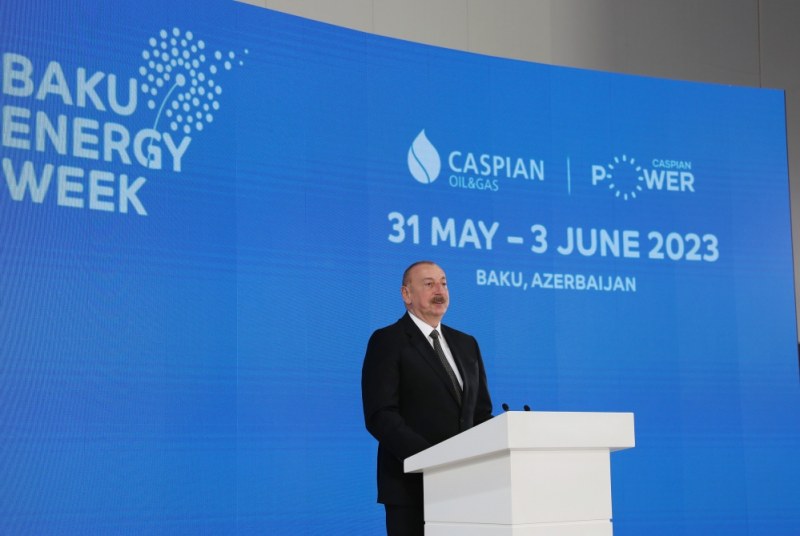 16:27 - 31.05.2023
---
May 31, Fineko/abc.az. The Southern Gas Corridor is our joint historic achievement in the form of an integrated pipeline system with length of 3,500 km, which is an important tool for ensuring energy security and energy diversification.
ABC.AZ reports that Azerbaijani President Ilham Aliyev stated about this, when delivering speech at the official opening ceremony of the 28th International Exhibition "Oil & Gas of the Caspian Sea" and the 11th Caspian International Exhibition "Energy & Green Energy" - Caspian Power at the Baku Expo Center.
"I've noted many times that energy security lies not only in the diversification of routes, but also in the diversification of sources. In our case, it is also well-coordinated work of companies, countries, international financial institutions," the head of state stressed.
The president said that last July, the EU and Azerbaijan signed the Memorandum of Understanding in Baku on strategic partnership in the energy sector, which is being successfully implemented today.
"We've already started and continue the dialogue in the energy sector. Together with the EU, we chair the SGC Advisory Council, which takes place every February in Baku and is a tool for coordinating all our efforts," the head of state added.
Ilham Aliyev noted that even now, when the SGC is functioning, we face new challenges, new tasks.
"Therefore, the EU-Azerbaijan cooperation has many positive aspects throughout its history, and many potential achievements in the future," he stressed.