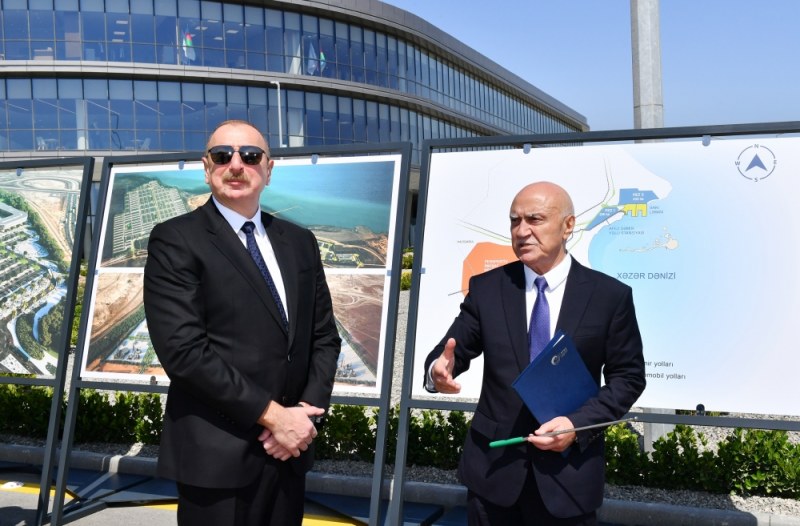 15:28 - 9.06.2023
---
June 9, Fineko/abc.az. President Ilham Aliyev has participated in the opening ceremony of the 1st stage of the Alat Free Economic Zone.
ABC.AZ reports that Alat FEZ Authority's chairman of board Valeh Alasgarov informed the head of state of the works done.
The Alat FEZ occupies a total area of 850 hectares. The construction work started on the 60-hectare area (Zone 1, Stage 1), which is the initial development stage of the FEZ.
Thus, the land plots to be leased to investors are now ready for construction work. Inside the land plots with total area of 297,000 sq m, there are connection points to water, sewer, electric, gas and communication networks. There is also a ready-to-use internal and external engineering & communication infrastructure. Customs checkpoints and buildings for customs inspection have been built at the main entrance to the territory of Zone 1.
The head of state viewed the conditions created in the Business Center of the Alat FEZ.
The Business Center's building, which covers a total area of 16,000 sq m, consists of three functional parts.
There will be an office of the Alat FEZ Authority. The will render services to investors on one stop shop principle, offices for investors' management bodies and an office of attached customs officers. The business center has created the appropriate infrastructure and material and technical base to ensure quality service.
The foundation stone of the Alat Free Economic Zone was laid on July 1, 2021 with the participation of President Ilham Aliyev.