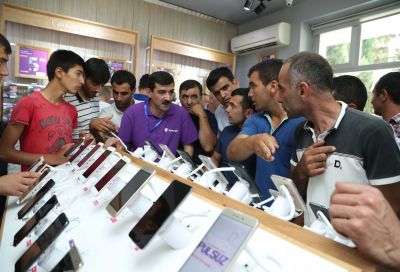 17:18 - 5.07.2018
---
Prioritizing convenience for customers and further improving the quality of its services, Azercell Telecom continues to expand its chain of Exclusive Shops across Baku and regions. This time, the company introduced next Exclusive Shop in a new concept in the region of Shamakhi, at Agamirzali Ahmedov st.1.
The distinguishing feature of Azercell Exclusive store is the availability of open spaces, easiness of services and choices. Here, the customers can learn about any product, compare and test them right on the spot. Qualified sales representatives will help the customers to make the right choice, activate services and answer their question. As in other Customer Service centers of the company, this office will manage all operations, other than presenting call details and transfer of a mobile number from one name to another. Customers can also get various accessories and additional gadgets, as well as purchase mobile phones for cash or on credit. Notably, the shop will operate every day from 9:00 till 20:00 without a break. Also. customers making a purchase from Azercell Exclusive Shop within 3 days starting from the opening day will have a chance to receive a gift valued at 50% of their spending.
Currently, Azercell's Exclusive Shops serve customers in Baku (at 44C Tbilisi Avenue, at 5 Bulbul Avenue, apt. 52, building 30/42, Gara Garayev Avenue), Khirdalan (at 54 Mehdi Huseyn Street, H. Aliyev Avenue), Mardakan (at 92, Sergey Yesenin Street), Khachmaz (at 40 Nariman Narimanov Street), Guba (at 194 Haydar Aliyev Avenue and 12 Gabala Street) and Sumgait (mc/d 11, junction of Koroglu and U.Hajibeyov streets).