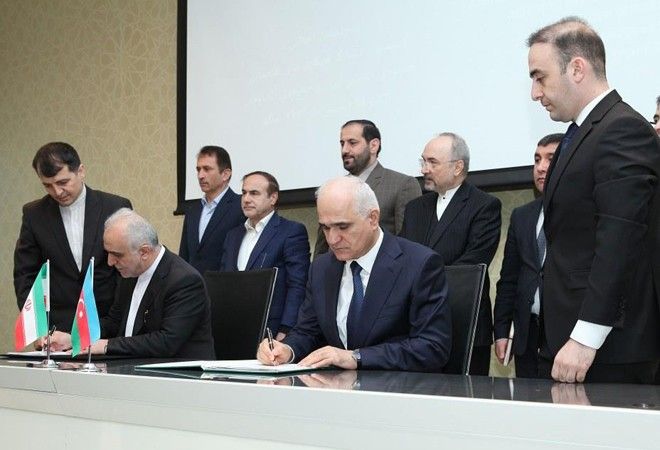 15:59 - 15 March 2019
---
March 15, Fineko/abc.az. A range of documents have been signed in Baku today within the framework of the 13th session of the Azerbaijan-Iran State Commission on Economic, Trade & Humanitarian Cooperation.
Commission's co-chairs Shahin Mustafayev (Economy Minister of Azerbaijan) and Farhad Dejpasand (Minister of Economic Affairs & Finance of Iran) signed the Memorandum of Understanding.
Also, among the signed documents are as follows: Memorandum of Understanding between companies Ethad and Azermash on joint production of automotive spare parts on the territory of Neftchala Industrial Town; the Memorandum of Understanding between companies Qartal and Azermash on joint bus production of buses on the territory of Gazakh Industrial Town.
Azermash's head Emin Akhundov stated that the bus maker plant to be located on the 5-hectare territory with personnel of 100 people will produce bus models of brands of European and Asian manufacturers. The cost of the bus plant is about AZN 11 million. Azermash's stake in the bus plant project is 25%.
"The enterprise will be put into operation by the end of 2020 and its annual capacity will be 500 buses. It is planned to export buses to neighboring countries. Simultaneously, negotiations are underway about the operation of buses within the country that is also beneficial from angle of price policy," Akhundov said.
The spare part producer plant, a 50% equity stake in which is owned by Azermash, costs about AZN 7 million. Its personnel is expected to number up to 70 employees.