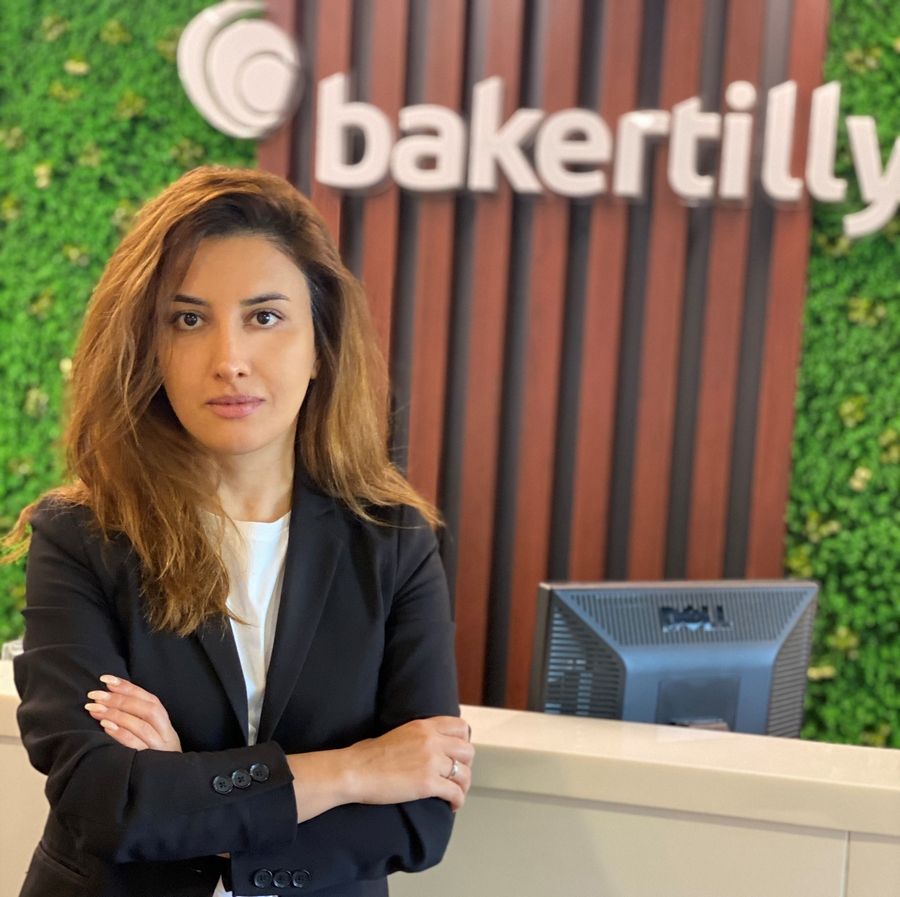 15:46 - 25.09.2020
---
Matanat Bakirova, the head of the Training & Development Department at Baker Tilly Academy, gave an interview to ABC.AZ about the establishment of the company, upcoming goals, and other important issues.
We present this interview to your attention.
How was Baker Tilly Academy founded?
Baker Tilly Azerbaijan, which has been successfully operating in the Azerbaijani market for more than 13 years, is currently recognized as one of the top 5 consulting companies in the country providing accounting, auditing, tax, legal and business consulting services. Over the years, the company has been actively involved in a number of social projects, including science and education, as part of its corporate social responsibility policy.
Since its inception, Baker Tilly has been constantly innovating the range of services and constantly implementing a number of measures for the development of our customers and employees. For instance, our company, which provides audit and tax services was expanded with the addition of a financial advisory services department, and from 2018, business consulting services were established for our clients. As the continuance of these processes, to meet the needs of our employees for constant development and learning, as well as to contribute to the development of our customers by providing training in accordance with their special needs our partners have taken such an initiative. We started with the hope that our service in this area will be significant and well accepted in the market as other services in terms of quality criteria and have been successfully operating in this sector for more than a year.
What is your goal and mission as a new company in the training and development sector?
Our goal is to provide innovative, high-value professional training solutions tailored to the specific needs of companies working for the professional development of their employees, as well as those who are constantly working on themselves to achieve career advancement.
As Baker Tilly Academy, our mission is to develop integrated training programs tailored to the needs of organizations by engaging highly qualified professionals and thus to be recognized as a leading training company that contributes to customer success, as well as supporting students as part of a corporate social responsibility program.
Considering that Baker Tilly Azerbaijan is a company providing audit, tax, accounting, finance, and business development related services, does the Academy provide training in only these areas, or it covers other areas as well?
No, Baker Tilly Academy provides training in finance, accounting, business, leadership and management, soft skills, human resource management, MS Office programs, international certification programs (ACCA, CIA). Our visitors can get acquainted with all the available trainings by visiting the official website of Baker Tilly Academy.
What about the trainers at your academy, they all work for Baker Tilly?
No, although some of the trainers at our academy, especially those in financial and accounting training, are specialists from Baker Tilly, we have also professional trainers in other fields with different backgrounds and long experience.
As you know, due to the COVID-19 pandemic, according to the quarantine rules in our country, it was forbidden to conduct group lessons in training and educational institutions, but did this affect your activities?
Of course, I wouldn't be wrong to say that one of the areas affected by the pandemic is training and education. However, in order to reduce the intensity of this negative impact, we also took advantage of the opportunities created by high technology to conduct our trainings online. At present, we continue our trainings both online and live.
We aim to be closer to those who benefit from our services with more digital systems, both in the core business of Baker Tilly and at the Academy.