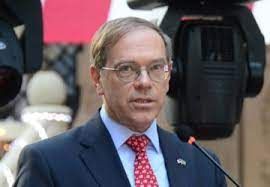 16:32 - 16 February 2022
---
February 16, Fineko/abc.az. U.S. Ambassador to Azerbaijan Earle Lee Litzenberger took part in a round table dedicated to the 30th anniversary of diplomatic relations between the two countries.
ABC.AZ reports that at the round table the diplomat spoke about the opening of transport routes in the region.
He emphasized that the U.S. stands for sustainable peace in the region and the opening of transport routes.
"We want logistics and transport routes to be open, we are for peace in the region," the diplomat said.
The ambassador also expressed a hope for the resolution of a number of important issues, such as the return of IDPs, as well as the delimitation and demarcation of the border between Azerbaijan and Armenia.