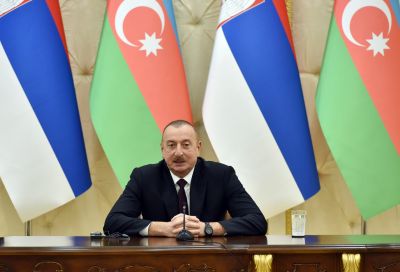 11:47 - 22.05.2018
---
May 22, Fineko/abc.az. Azerbaijani President Ilham Aliyev made a statement on Serbia's participation in the Baku-Tbilisi-Kars project.
The head of state stated that ceremony of commissioning of Baku-Tbilisi-Kars railway line was held in Baku last October.
"This road is also of great importance. As a result of its functioning, Asia and Europe are connected with each other through Azerbaijan and other countries. This is the shortest route from Asia to Europe and in the opposite direction. Goods have already been transported on this road, and their volume will gradually grow. Of course, we see Serbia as an active participant of this railway project. I believe our relevant organizations can already begin negotiations on this issue so that we would increase our cargo transportation," President Aliyev said.
He pointed out that it will promote to development of tourism, increase mutual trade turnover, and strengthen stability, ensuring security in the region and in the Eurasian space.