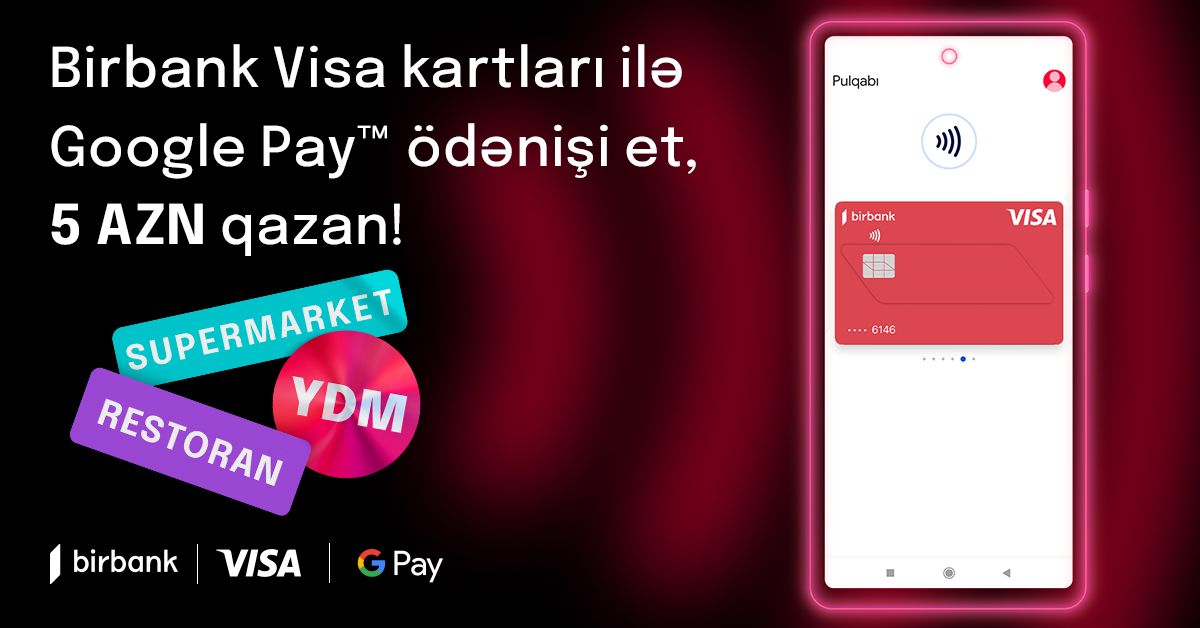 12:29 - 24.08.2022
---
August 24, Fineko/abc.az. As previously reported, Kapital Bank cardholders can now make payments quickly and safely with Google Pay. Google Pay enables customers to pay for things without using a bank card, touching physical buttons of POS machine or exchanging cash.

Customers who set up Google Play on their smartphones and start making payments with Birbank Visa cards will receive an additional bonus. Until September 23, 2022, Visa cardholders for making payments with Google Pay at a grocery store, cafe and gas station in the amount of at least AZN 20 each will receive AZN 5 cashback. To receive bonus cashback, all three transactions must be made with the same card. Each customer can use the offer only once.

To make a payment with Google Pay, the buyer needs to bring a smartphone or smart watch with the Android operating system to the POS machine. Every transaction made through Google Pay is highly secure, as users need to use biometrics or a password to unlock their smart device. In addition, all transactions use a unique one-time dynamic security code. Google Pay allows users to make payments in stores, pharmacies, taxis, cafes, restaurants, online platforms and many other places.

Kapital Bank, the country's first bank, is part of PASHA Holding. Kapital Bank has the largest service network in Azerbaijan with 108 branches and 24 departments all over the country. For more detailed information about the Bank's products and services, please refer to https://kapitalbank.az website, 196 Call Centre or the Bank's various social network pages. To apply for a consumer loan visit https://kbl.az/krdt, for a BirKart installment card visit https://kbl.az/tkstcrd.