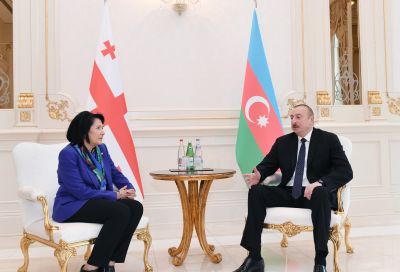 12:40 - 18 November 2022
---
November 18, Fineko/abc.az. "The high level of our interstate relations, our ever-expanding political dialogue have given powerful impetus to the all-round development of our mutually beneficial cooperation in all spheres, created a favorable opportunity for successful implementation of large-scale energy and transport projects."
ABC.AZ reports that this is stated in the letter of President Ilham Aliyev to Georgian President Salome Zurabishvili.
The Azerbaijani leader emphasized that the important projects that we are jointly implementing today serve the interests of our states and peoples, contribute to the prosperity, stability and security of our region and are of great importance for the whole of Europe:
"Today, our cooperation in the economic, trade, energy, transport, humanitarian and other spheres is an important factor characterizing the strategic partnership. We attach great importance to our relations with friendly Georgia and are determined to deepen them. I think there are good opportunities for expansion and development of Azerbaijani-Georgian cooperation."