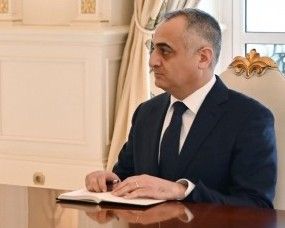 16:48 - 10 January 2023
---
January 10, Fineko/abc.az. Azerbaijani President's Plenipotentiary Representative in the Nakhchivan Autonomous Republic Fuad Najafli at the 9th session of the NAR Supreme Majlis of 6th convocation gave instructions to governmental bodies in connection with the Zangezur corridor.
ABC.AZ reports that NAR Supreme Mejlis MP Ehtimad Mammadov told reporters about this.
He added that President Ilham Aliyev is taking significant steps to open the Zangezur corridor: "The Presidential Plenipotentiary Representative in Nakhchivan, Fuad Najafli, also instructed all departments, institutions and organizations of the autonomous republic to strengthen activities in this direction."
During the meeting the results of NAR socio-economic growth in 2022 were discussed, the budgets of the NAR, the State Social Protection Fund and the Unemployment Insurance Fund for 2023 were approved.
By the presidential decree from 22 December 2021, Fuad Najafli was appointed President's Plenipotentiary Representative in NAR.