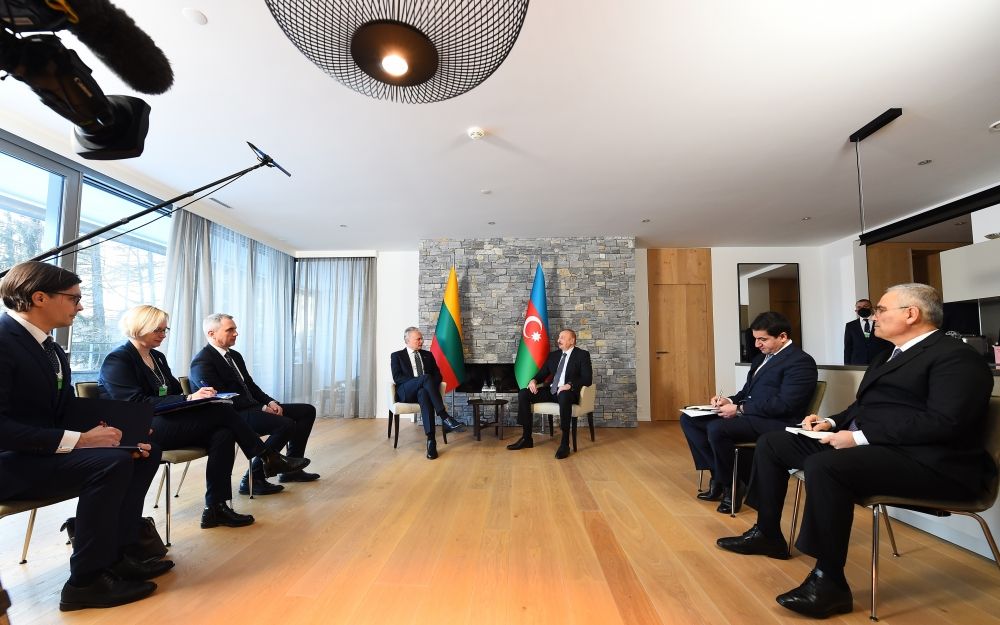 16:31 - 18.01.2023
---
January 18, Fineko/abc.az. President Ilham Aliyev has met with Lithuanian President Gitanas Nausėda in Davos.
ABC.AZ reports that during the conversation the sides exchanged views on regional issues, the normalization of relations between Armenia and Azerbaijan, negotiations on a peace agreement, as well as the developments taking place on the Lachin-Khankandi road.
The head of state noted that Armenia is engaged in manipulation over the events on the Lachin road in order to mislead the international community and is alleging - based on false information - that the road is closed. President Ilham Aliyev said that the road is open for the passage of civilians and civilian goods, as well as the free movement of humanitarian goods is being ensured via the International Committee of the Red Cross (ICRC).
President Aliyev stressed the importance of putting an end to the illegal exploitation of Azerbaijan's natural resources in the territories of the country, where the Russian peacekeeping contingent is temporarily deployed, and withdrawal of criminal elements from the area.
The Azerbaijani leader stressed that Armenia has been using the Lachin road for the transportation of mines, ammunition and personnel over more than past two years.
The parties also exchanged views about relations between Azerbaijan and the European Union. They underlined the importance of the EU-Azerbaijan-Armenia trilateral format organized with the support of President of the European Council Charles Michel in terms of advancing the peace agenda between Azerbaijan and Armenia.
During the conversation, the sides highlighted the important role of Azerbaijan in energy security of Europe. In this regard, they noted the importance of the Agreement in the field of green energy development and transmission between Azerbaijan, Georgia, Romania and Hungary signed in Bucharest in December of last year.