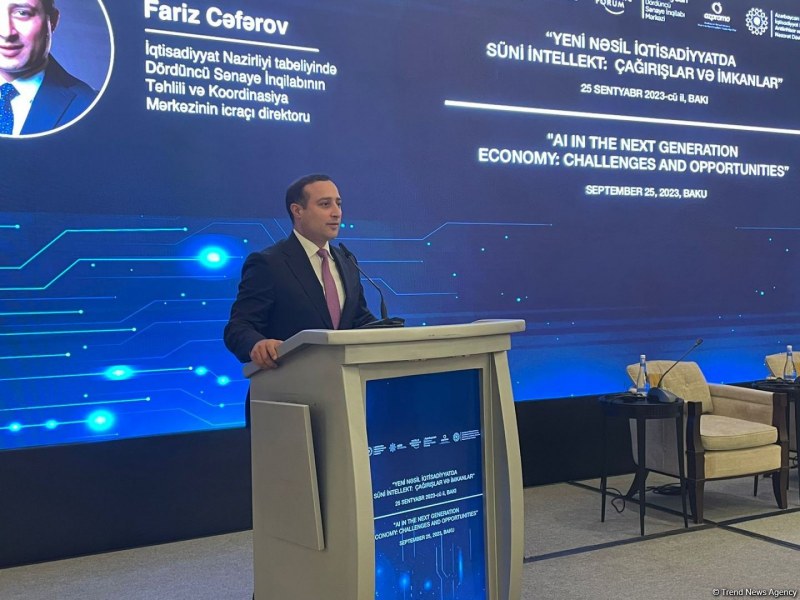 12:30 - 25.09.2023
---
September 25, Fineko/abc.az. The Center for Analysis & Coordination of the IV Industrial Revolution under the Ministry of Economy of Azerbaijan, together with the World Economic Forum, are preparing framework documents in a number of directions.
ABC.AZ reports that Center's executive director Fariz Jafarov said about this during event "Artificial Intelligence in the New-Generation Economy: Challenges & Opportunities" at the conference dedicated to the "Application of Technologies of the IV Industrial Revolution in the National Economy" within the Azerbaijan's Socio-Economic Growth 2022-26.
"At today's meeting, a framework document was prepared concerning the maintenance of artificial intelligence. This document was presented at the World Economic Forum in three languages: English, Spanish and Azerbaijani. We are proud that our specialists have translated this document and provided it to our colleagues. In addition, we have brought the Smart Industry Assessment Index to Azerbaijan. Analyzing each industrial facility in three directions (process analysis, technology analysis, organizational structure analysis), we prepare a digital roadmap for them. Our colleagues from Singapore and Türkiye support us in this direction. This assessment has been applied in SOCAR Polymer and Azergold and a roadmap has been prepared for them. At the next stage of applying this assessment in three SOCAR sub-organizations, it is assumed that the assessment will show the stage at which the organization is on the way to digitalization (as an organizational structure, as a management model and as a technological situation)," Jafarov added.