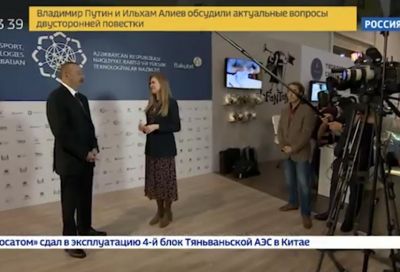 12:57 - 26 December 2018
---
December 26, Fineko/abc.az. Azerbaijani President Ilham Aliyev assessed the level of cooperation with the Russian Federation.
President Aliyev stated that two countries' relationships are characterized by very dynamic development, stability, predictability, and both states are good neighbors and reliable friends.
"Both Azerbaijani and Russian investors are investing in the economies of our countries. Preferential conditions are being created to increase trade turnover and create joint ventures. Russian banks finance important industrial projects in Azerbaijan for hundreds of millions of dollars. This is an indicator of our relations and also an indicator that Azerbaijan is the country where banks are not afraid of losing money. We're always responsible for all our obligations," President Aliyev said.
He underlined that plans for 2019 have been defined. Joint transport initiatives will give a serious boost to bilateral trade. North-South Project is already underway.
"Only this year we observe a 10-fold increase in transit through Azerbaijan from Russia and to Russia, including our shippers are actively using this transport artery," the president said.