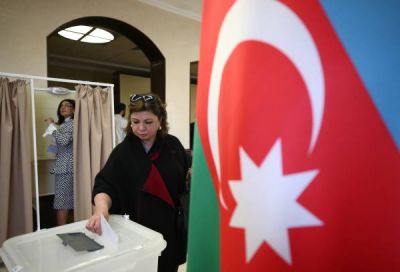 21:30 - 11 April 2018
---
April 11, Fineko/abc.az. Activity in presidential election made up 74.51%.
Farid Orujov, director of the information center of the Central Election Committee (CEC), stated that 3,959,553 out of 5,314,365 voters participated in the election.
"Thus,74,51% of the voters voted in the presidential election," Orujov emphasized.
Voting in the presidential election in Azerbaijan today began at 8:00 and ended at 19:00.
The Central Election Committee The CEC registered eight presidential candidates among whom were lham Aliyev, who represented ruling party Yeni Azerbaijan; Gudret Hasanguliyev, candidate from United Popular Front Party of Azerbaijan; Araz Alizade, candidate from the Social Democratic Party of Azerbaijan; Faraj Guliyev, candidate of National Revival Movement Party; Razi Nurullayev, candidate of the Initiative Group of Veterans; Hafiz Hajiyev, candidate of party Modern Musavat; self-promoted Zahid Oruj; Sardar Mammadov (Jalaloglu), candidate from Democratic Party of Azerbaijan.
The term of office of the elected President is 7 years.