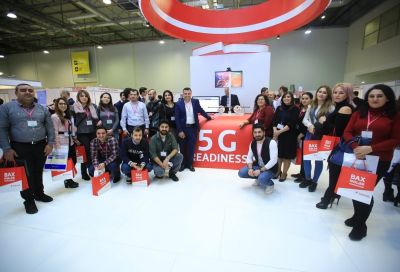 11:27 - 7 December 2017
---
Bakcell, The First Mobile Operator and Leading Mobile Internet Provider of Azerbaijan demonstrates the 4.5 G Pro technology and 5G readiness at its "BakuTel 2017" stand for the first time in Azerbaijan.
Being a well-known leader in innovation, this year Bakcell will yet again provide unforgettable experience and surprise the exhibition visitors by demonstrating cutting-edge technology.
In the "Toward 5G" corner at Bakcell stand installed in cooperation with Nokia , visitors will be able to witness the newest 4.5G Pro technology and even observe the speed which is 10 times faster than the initial LTE.
This demonstration by Bakcell and Nokia shows fantastic speed of up to 1Gbps. Thus, the visitors of Bakcell stand at "BakuTel 2017" will have a unique opportunity to witness never-before-seen in Azerbaijan demonstration of 5G readiness and the speed of 4.5G Pro technology, along with the "Robot Automation Latency" Demo.
"With the exponential growth in the demand for ultra-high speed mobile broadband services, as well as the aggressively increasing use of data-hungry applications, Bakcell continues to invest heavily in our network and apply the latest technologies available on the global market. The future users will require high network capacity and throughput that are able to process the demanded volume of data. Therefore, to preserve our leadership in the area of innovation we want to make sure that our network is ready to support 4.5G Pro and even 5G, as soon as demand for such technologies emerges on the market" says Bakcell CEO Nikolai Beckers.
5G readiness demonstration is designed to prove the importance of low latency in ensuring fast, effective and intelligent communication along with future automation of everything. The guests will have a chance to observe the incredible data speed of up to 1 Gbps, and enjoy watching the robot show.
Bakcell invites all visitors of "BakuTel 2017" to the company's stand to acquire unforgettable experience, using the latest technologies in a friendly and entertaining atmosphere.