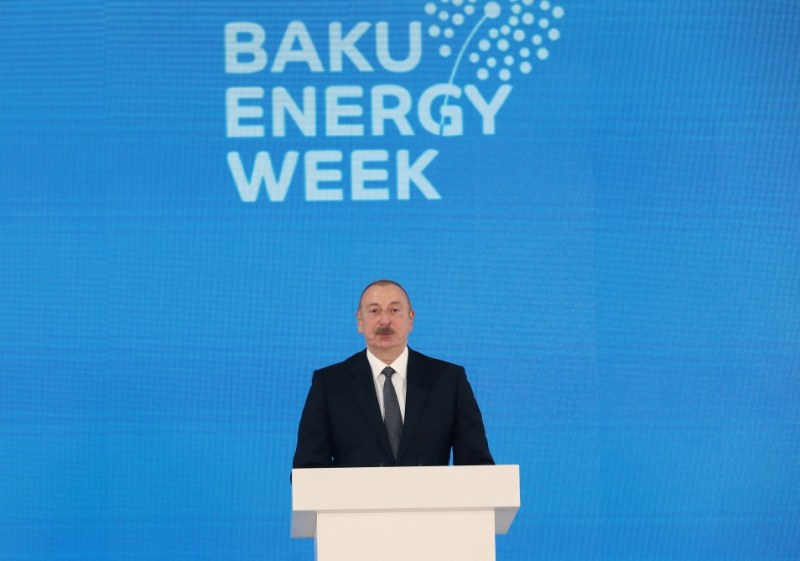 16:28 - 31.05.2023
---
May 31, Fineko/abc.az. We know that due to the transition to green energy, some international financial institutions have stopped financing projects related to fossil fuels. But I think it is necessary to evaluate all issues from angle of reality. Today it is obvious that energy security cannot be ensured at the desired level without natural gas supplies.
ABC.AZ reports that Azerbaijani President Ilham Aliyev stated about this when delivering speech at the official opening ceremony of the 28th International Exhibition "Oil & Gas of the Caspian Sea" and the 11th Caspian International Exhibition "Energy & Green Energy" - Caspian Power at the Baku Expo Center.
The head of state noted that the agreements and memoranda signed by Azerbaijan envisage the production of 25 gigawatts of "green" energy.
"The probability that the memoranda will become agreements is high. But even if half of them are implemented, it will be more than enough," the president stressed.
The Azerbaijani leader underlined that last December an important event in the field of "green" energy was held in Bucharest in the presence of the president of the European Commission. During the event, several countries - Azerbaijan, Georgia, Hungary, and Romania signed an agreement on "green" energy and transmission, which in the future will become a global project with the participation of more countries and companies.
The president noted that at the first meeting of the organizing committee, which was held in Baku, an agreement was reached that this would be an integrated project - from offshore wind from the Azerbaijani sector of the Caspian Sea to European markets, including transmission lines and an underwater cable along the bottom of the Black Sea.
"Now we are at the stage of completing a feasibility study. We believe that within this project we'll be able to transport at least 4 gigawatts of green energy to Europe, which will be our additional contribution," the head of state said.