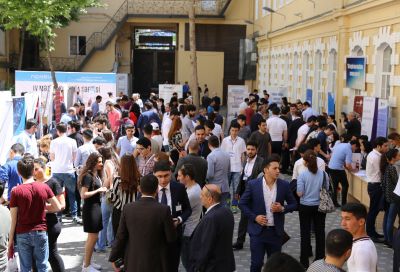 16:10 - 22 May 2018
---
Bakcell, the First Mobile Operator and Leading Mobile Internet Provider of Azerbaijan, has taken an active part in the career fair, organized by the "Graduate and Career Center" of the Azerbaijan State Oil and Industry University (ASOIU).
The career fair was organized with an aim to support the integration of ASOIU graduates and senior students to the business environment. At the fair, visited by almost 2000 students and graduates, Bakcell representatives have provided extensive information about the job openings and internship opportunities at the company's sales and marketing department, and held job interviews. Bakcell stand at the career fair has attracted great attention of the participants.
Well-known for its large-scale corporate social responsibility activities, Bakcell keeps the education and professional development of Azerbaijani youth in a constant spotlight, and contributes largely to increasing the employment rate among youth. Only during the current year, Bakcell has participated in job and career fairs organized by ADA University, Western-Caspian University and ASOIU. At the same time, the company has announced its summer internship program and successfully implemented other important projects, aimed at supporting the career and education of youth.
Bakcell will continue its successful activity, aimed at supporting younger generation in their education and career building, thus contributing to bright future of Azerbaijani youth.